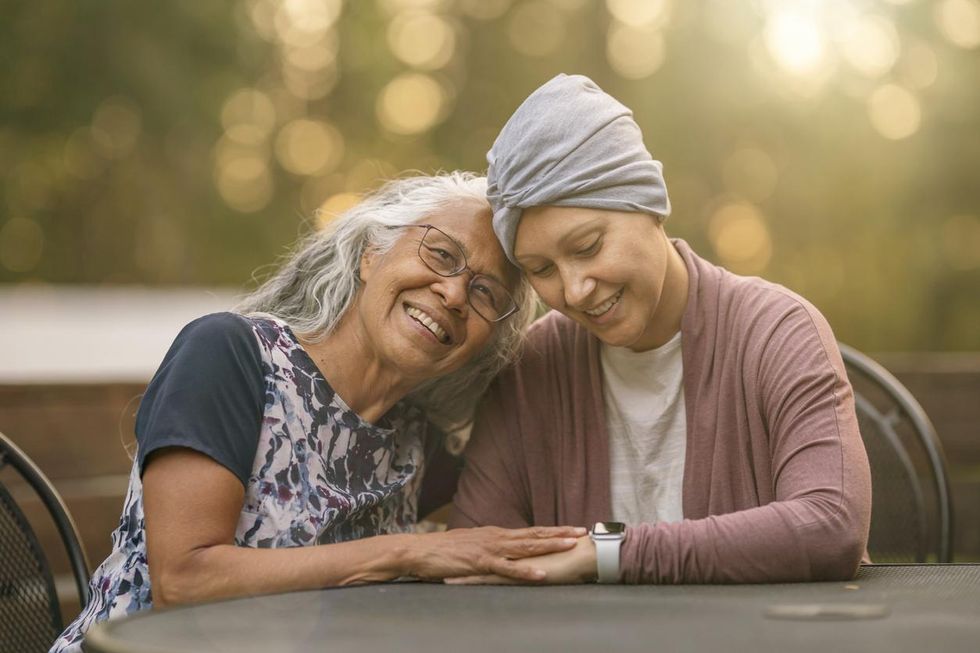 Cancer is a 360-degree disease: It touches everything and everyone around the diagnosis. In 2022 an estimated 1.9 million people will be diagnosed with cancer in the United States, and odds are that you probably know someone who has or had the disease.
Five years ago, that was me. I was diagnosed with stage 3 breast cancer, and my life changed dramatically. Suddenly, all my time was dedicated to a treatment plan that included chemotherapy, radiation and a double mastectomy. Although I tried to be as independent as possible, there were many times that I physically needed help. For instance, after the double mastectomy, I couldn't walk my pugs or go grocery shopping — I couldn't even sit up or shower without assistance. During this time, it was difficult for me to lean in and admit that I couldn't do everything on my own.
Although everyone's cancer journey is unique, one aspect that everyone has in common is the need for emotional support during this time. One study found that cancer patients have higher levels of anxiety and depression compared to the general population. However, research has shown that strong emotional support leads to a better quality of life for people with breast cancer. In fact, another study found that women diagnosed with another cancer who had low social support before their diagnosis had a 42% higher mortality rate compared to women with high levels of support.
Even though it's clear that emotional and physical support are important, it's common for family members, friends and caregivers to feel helpless and unsure of how to support someone with cancer.
So, how can you help someone who has cancer?
Thankfully, there are organizations such as the Cancer Support Community and the CancerCare that offer educational content and ways to provide general support, as well as online resources such as Meal Train in partnership with Magnolia that are dedicated to organizing nutritional, physical and emotional support for people with cancer.
To participate in Meal Train, a friend or family member creates an online calendar for a person affected by cancer. They can add information on nutritional needs, taste preferences, allergies, frequency of meals and how many people to prepare food for. The calendar can then be shared with friends and loved ones to simplify the process for scheduling and organizing the delivery of meals. This is an incredibly important aspect of helping because not only is meal preparation difficult to find time for while juggling cancer, but getting proper nutrition is extremely important during treatment and recovery as well. Meal Train users also can purchase a meal through the site, donate money to the recipient, or buy a meal delivery gift card for restaurants or food delivery services. Other options include signing up for everyday tasks and errands, along with circulating online newsletters, updates, photos and social media happenings, which can provide some inspiration for everyone involved.
Cancer is not just complicated and scary. It also has logistical challenges, and everyone handles the many challenges involved in their own way. For many people, treatments and medications can leave them feeling weak, tired and unable to do much of anything at all. Emotionally, a cancer diagnosis can set off a roller coaster of feelings from sad to angry to hopeful. And although cancer can be emotionally and physically draining for the person going through the disease, an organized team of family, friends and caregivers can help ease the burden and stress.
In my case, I was extremely lucky to have a strong support team who jumped into action and helped with the little things, like a hot meal and walking the dogs. A little kindness makes a big difference when you're fighting cancer.
Resources
Cancer Support Community
CancerCare
This resource was created with support from Eisai.
Meal Train® is a registered trademark of Meal Train LLC.
Meal Train® in partnership with Magnolia is supported by Eisai.
From Your Site Articles
Related Articles Around the Web